Art Deco is centered primarily in the major cities along the route 66 path. This includes but is not limited to Chicago, Saint Louis, Tulsa, Oklahoma City, Amarillo, Albuquerque, Flagstaff, Pasadena, Los Angeles and Santa Monica California. There are also good Art Deco locations that are short side trips away from these major cities. These include such side says Oak Park Illinois, Bartlesville Oklahoma, Long Beach. And Palm Springs California.
In this post we hope to list the major Art Deco highlights for each city. We will also point you to local sources of information to better discover the Art Deco in these locations.
Route 66 History
The road infrastructure necessary to support this endeavor had yet to be developed. By 1917 only 2% of the nations roads were paved. Most being unimproved earth with some graded and gravel. The majority of the roads were maintained and mapped by local "trail organizations" focused on promoting travel to their town. This lacked cohesion and made it difficult for long distance travelers. To travel from Chicago to Los Angeles might require 100 or more maps of dubious quality and accuracy. Just accumulating the maps needed was an overwhelming task.
The federal government knew they had a problem. In 1921 Congress passed the Federal aid Road act requiring states to designate their primary roads and develop state highway systems. The primary roads would be designated U.S. Highways. The states organized together and formed the "American Association of Highway Officials" to coordinate interstate travel. By 1925 in the Association of State Highway and transportation officials asked Sec. of agriculture, William Jardine, for federal supervision of the national highway system. He formed the joint board of interstate highways and appointed Paulson, Cyrus Avery, as a consulting Highway specialist. Avery was assigned to designate and map the new federal highway system.
Art Deco History
The style that is now called Art Deco was unveiled to the world at the 1925, Paris "Exposition des Arts Decoratifs et lndustriels". This was the formal unveiling of Art Deco art and architecture form to the world. At the time it was simply called the "Modern Style". The Paris Exposition had more than 150 pavilions representing tremendous in the center of Paris, between the Eiffel Tower and the Place de la Concorde. Many of the prominent pavilions were constructed in this new architectural style that would evolve into Art Deco.
Route 66 Path
It was Tulsan Cyrus Avery who propose the route for the first national Highway linking the East Coast to the West. Avery effectively routed Route 66 through the Southwest states of Oklahoma, Texas, New Mexico and Arizona to avoid the treacherous winter driving conditions utilizing pre-existing roads, like the Ozark trails, that link towns from Joplin, Missouri to Amarillo, Texas. He was responsible for numbering the road and spent his life promoting and soliciting financing for Route 66. Avery successfully argued that to avoid the high peaks of the Rocky Mountains route 66 should be diverted south through the Tulsa and Oklahoma City and onto Texas New Mexico Arizona and California.
Route 66 Illinois
Route 66 Attractions:
Some of these classic sights are listed below:
Funks Grove Pure Maple Sirup Funks Grove IL
Muffler Man Holding Hot Dog Atlanta IL
World's Largest Covered Wagon Lincoln IL
Pink Elephant Antique Mall Livingston IL
Historic Largest Catsup Bottle in the World Collinsville IL
Fiberglass Cow Edwardsville IL
End of Route 66 Sign Chicago IL
Route 66 Museum, Joliet IL
Rialto Square Theatre, Joliet IL
Standard Oil service station, Odell IL
Gemini Giant, Wilmington, IL
Route 66 Museum Pontiac
Ambler's Texaco Gas Station in Dwight IL
Paul Bunyon with giant hot dog in Atlanta IL
Lincoln Home, Springfield IL
Cozy Dog Drive-In, Springfield IL
Soulsby's Service Station, Mt. Olive IL
Henry's Rabbit Ranch, Staunton IL
Chain of Rocks Bridge Madison, IL
Chicago Illinois
Although New York City's American Radiator Building is considered Americas first Art Deco skyscraper, Chicago played a significant role in the early development of Art Deco.
FREE ART DECO WALKING TOUR MAP
Get Freed Map and Guidebook
Chicago Architecture Center
Chicago Architecture River Cruise
In my opinion, one of the easiest ways to view the architecture of Chicago is by taking one of the architectural Chicago River boat tours. Some of the unobstructed views you get from Chicago River are absolutely astounding.
90-Minute Chicago River Architecture Tour
Chicago Downtown Art Deco
River Cruise / River Walk Views
Chicago Architecture Center
333 N Michigan Ave
Chicago Motor Club Building
Carbide and Carbon Building
333 N Michigan Ave
Carbide and Carbon Building
LaSalle & Wacker Building
The Engineering Building
Chicago Daily News Building
Civic Opera Building
Art Deco Walking Tour
Chicago Architecture Center
333 N Michigan Ave
Chicago Motor Club Building
Carbide and Carbon Building
110 N Dearborn St
Chicago Federation of Musicians Building
33 N LaSalle St.
1 N LaSalle St.
Franklin Savings
W Hotel (The Midland Hotel)
The Field Building
Rookery Building
Chicago Board of Trade Building
Carbide & Carbon Building
The 1929, The Carbide & Carbon Building was the regional office of Union Carbide and Carbon Company. The top of the building looks like a green and gold leaf champagne bottle. In 2001 the building was converted into the Hard Rock Hotel Chicago in 2001.
Merchandise Mart
Chicago Board of Trade Building
The building is built using gray Indiana limestone with a copper pyramid roof. The Chicago Board of Trade's trading floor is located on the fourth floor. Atop the building is a John H. Storrs 31 ft aluminum statue of Ceres, Roman goddess of grain.
The Rookery

Oak Park Illinois
While in Chicago you should consider making a slight road trip to Oak Park, the home of Frank Lloyd Wright. Oak Park, a village of about 20,000, just 20 miles west of Chicago. It is home to Frank Lloyd Wright Home and Studio which is now a museum and information center about Americas most famous architect. Wright's previous home is owned by and managed by the Frank Lloyd Wright Foundation.
Prairie Style of Architecture
Frank Lloyd Wright is famous for developing the "Prairie Style" of architecture from his Oak Park studio.
Wright houses in the neighborhood
The neighborhood south of the Wright house is full of homes designed by him. You can get a free map at homes gift shop or take one of the guided tours for a small fee. Two houses in the neighborhood, the Thomas House and Willits House are recognized as the initial examples of the style.
Route 66 Missouri
Route 66 Attractions
Indian Harvest Trading Post Teepees (St. Clair MO)
The World's (second) Largest Rocking Chair (Fanning MO)
Giant Bowling Pin (Buckhorn MO)
Giant Route 66 Sign, St. Louis MO
Gateway Arch, St. Louis MO
Route 66 State Park, Times Beach MO
Meramec Caverns Barn sign, St. Clair MO
Indian Harvest Trading Post St. Clair MO
Meramec State Park, Sullivan MO
Route 66 Cuba Murals, Cuba MO
Hillbilly Sign, Rolla MO
Giant Bowling Pin, Buckhorn MO
Replica of Hubble Space Telescope, Marshfield MO
Birthplace of Route 66, Springfield MO
Saint Louis Missouri
Art Deco in Saint Louis
The 1904, Saint Louis World's Fair promoted and developed the Forest Park region of the city. This included the Holy Corners Historic District, which is a concentration of several historic religious structures, such as the First Church of Christ, Scientist (1904).
Wainwright Tomb
The tomb domed cubic tomb has concrete walls of covered by limestone. It is decorated with a leafed bronze grill and double doors. Be sure to check out the window on the sides of the tomb that are covered by bronze grills. This considered one of Louis Sullivan's architectural masterpieces.
Continental-Life Building
Forest Park Jewel Box
Forest Park is a great place to visit and view some great Saint Louis Architecture that includes the:
Police Stations
Jewel Box
Route 66 Kansas & Oklahoma
Route 66 Attractions
Tulsa Oklahoma
The tremendous growth of Tulsa from 1920 to 1930 was fueled by its passion to be know internationally as the "Oil Capital of  World".  To exhibit it's success it built extravagant buildings featuring the Art Deco designs.  It was a  popular modern style that reflected Tulsa's spirit and the energy. Tulsa is one of the nation's top Art Deco destinations having a wealth of Art Deco treasures. 
Tulsa Art Deco Information Sources
WWWARTDECO-USA.COM
Tulsa Downtown Art Deco Walking Tour
Tulsa has a great 2-hour downtown Art Deco tour that walk and view some great 1920s architecture.
Tulsa Art Deco Museum
At the east end of the Philcade building's lobby is the Tulsa Art Deco Museum. The museum displays deco artifacts and sells books, art and other Art Deco items. Window displays of various art deco objects are displayed through the north-south lobby hallway. The lobby has Deco Styled Elevators. All these features have made the Philcade one of Tulsa's top art deco building interiors to visit.
Tulsa Route 66 Art Deco
Tulsa Warehouse / Farmers Market
Boston Avenue Methodist Church
The Boston Avenue Methodist Church design was the collaboration of Adah Robinson, a Tulsa Central High School art teacher, and her former student, architect Bruce Goff. Robinson studied the history and traditions of the Methodist faith for a year in advance of developing the church design. Her initial design sketches expanded by Goff into working, structural sound plans.
Tulsa Fairgrounds Pavilion
Tulsa Fire Alarm Building
Oklahoma City, Oklahoma
The Art Deco style of architecture is an integral part of the Oklahoma City landscape. Art Deco was a design style most popular from 1925 until the 1940's. During the 1930's, Oklahoma City was a vibrant town with a strong economy based on Oil and Cattle. During the 1920's Oklahoma City had developed into an important commercial city due to a railway hub and several large meat packing plants. In December of 1928, oil was discovered leading to an Oil boom providing the capital needed for expansion and development even though most of the country was going through a severe depression.
Oklahoma City has an extraordinary number of Art Deco buildings for the size of the city. We display here just a few of these underappreciated architectural works located in the city.
CITIZENS BANK TOWER
Geodesic Gold Dome
Taft Middle School
Taft Middle School is fine example of zigzag art deco utilizing decorative frieze designs extensively over the first-floor windows. Each window mantle depicts a different aspect of education. The tower emphasizes the vertical nature of the building, typically associated with the zigzag style.
Founders Building
Route 66 Texas
Route 66 Attractions
Pueblo Deco
Pueblo Deco is a distinctively American architecture and design style that combines the elements of the Pueblo Revival, Native American Art, and Art Deco design styles. The Pueblo Deco style is most commonly associated with America's Southwest region. It can be found throughout Oklahoma, Texas, New Mexico and Arizona. The style is especially prevalent in the states of Texas, New Mexico and Arizona where the Native American influence is expressed it the architecture.
Amarillo Texas
Potter County Courthouse
text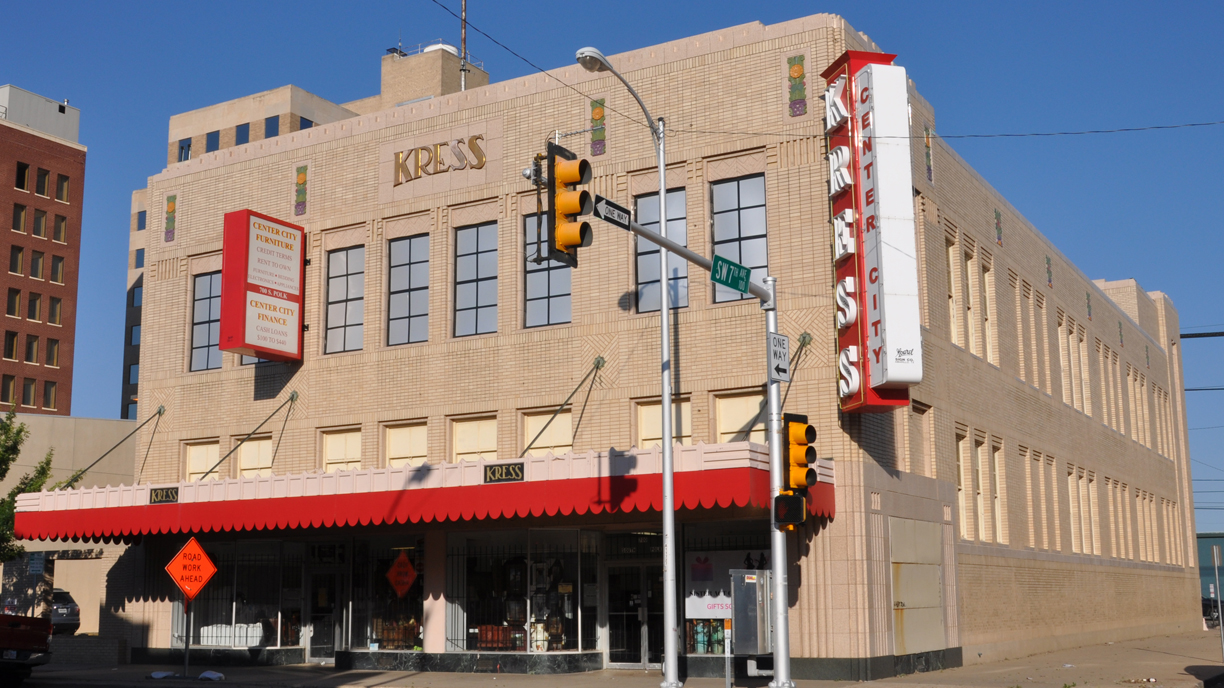 Paramount Theatre
Route 66 New Mexico
Route 66 Attractions
Albuquerque New Mexico
KiMo Theater
Maisel's Indian Jewelry Store
Pueblo Deco Maisel's Indian Jewelry, Albuquerque NM: Copyright 2022, Don Wagner Family Foundation, All Rights Reserved
El Rancho Hotel
The El Rancho Hotel opened in 1936, as a movies housing establishment. The owner, R.E. "Griff" Griffith, was the brother of D.W. Griffith ,who produced and directed Western films. The area around Gallup was popular filming location. The hotel was built for the actors and crews of those films. The Hotels staff were hired and trained by the famous Fred Harvey Company. The hotel is situated on Historic Route 66.
Route 66 Arizona
Route 66 Attractions
Flagstaff Arizona
Grand Canyon National Park
Mary Jane Colter
Colter's designs were influenced by the ancient ruins of Americas Southwest region. She studied existing structures of an area including their ruins and then incorporated their natural beauty into her architecture and interior designs.
Route 66 California
Route 66 Attractions
San Bernadino California Theater
Pasadena California
The Pasadena City Hall is a grand example of the Pueblo Deco style that mixes the Mediterranean Revival
and Spanish Colonial Revival Styles to create beautiful building and courtyard.
Colorado Street Bridge
Arroyo Seco Parkway Tunnels
Arroyo Seco means "dry gulch" in Spanish. In 1895-1897 the Arroyo Seco route was developed as a scenic bicycle trail. Due to the development and use of the automobile as the primary trasportation method the Arroyo Seco Parkway was conceived to provide a fast road connection bdtween Passadea and Los Angeles while retaining a beautiful setting to drive through.
Four Art Deco styled tunnels were built through the hills to connect the area from Solano Avenue and the river to Riverside Drive.
Los Angeles California
Art Deco Society of Los Angeles
Hollywood / Beverly Hills
Los Angeles California Mormon Temple

Santa Monica California
Santa Monica is the west end of Route 66 and has a great deal of Art Deco view.
The Georgian Hotel is a glamour boutique hotel built during prohibition which one of Los Angeles' first celebrity speakeasies. The Georgian provides spectacular ocean sunsets over Santa Monica Bay. The Georgian Hotel has a seaside Art Deco Style which is not exactly like the Miami South Beach style. This style mixes elements of Romanesque Revival and Chicago School tripartite design with Art Deco ornamentation.
Summary
The time period in which Route 66 was being developed coincided with the introduction and popularization of Art Deco Architecture in the United States of America. Cities like Chicago, Saint Louis, Tulsa, Oklahoma City, Amarillo, Albuquerque, and the Beverly Hills/ Los Angeles area are all good places to explore for Art Deco architecture. In following posts, we will explore in detail the Art Deco architecture in each of these cities.